At home at... Hans
December 2nd 2012
Today we were at our president Hans. Of course we wanted to know everything about him and how he became addicted to Orchids
After Hans had stopped his aquarium hobby he was left with a large empty glass container.
Now you must know that at this time period he employed in the centre of Rotterdam.
Around lunch time he regularly walked in the city centre. During one of these walks he ran into bookstore "The Slegte" and his eye fell on an English book "Orchids for everyone"
If he had known in advance what consequences that book would have, had he might have left it there, but the damage was done. Moments later he walked out of the store with his first orchid book under his arm.
Blood is thicker than water and some weeks he found himself walking around in "the Orchideeënhoeve" where he purchased his first orchid, and actually not even a Phalaenopsis.
Sometime later during a bike ride he rides to "The Wilg" who was also honoured with a visit. Eventually Hans left "The Wilg" with a wealth of new information on the care of orchids.

All in all, Hans became more and more interested in growing orchids for himself. He also did read about an exhibition in the Hortis Leiden to celebrate their 70th anniversary of the NOV. At this exhibition, Hans joined the NOV. Hans was also told that in his neighbourhood there also was an Orchids society, and of course wanted to visit one of their society evenings. After his first society meeting he never missed an other.

When the president of the Orchid society Rotterdam stepped down, Hans became candidate president. After a year he became president.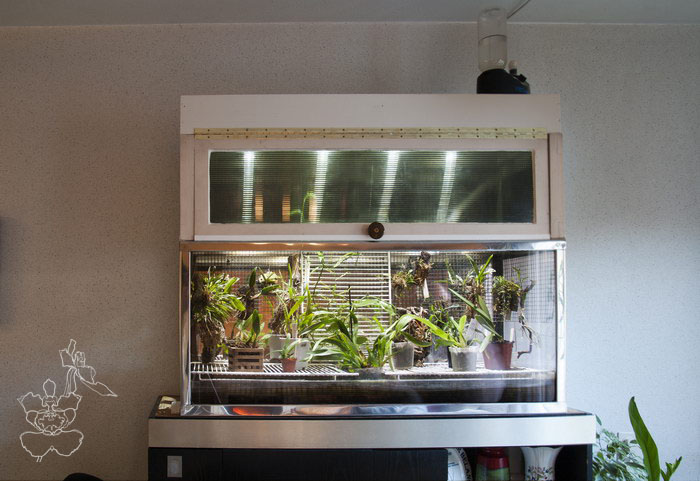 Don't forget to click on the 2 different areas on the picture above for a closer look.
The old fish tank had in the meantime been removed from the shed, dusted and converted into greenhouse. Over time it has become a full worthy greenhouse with power LEDs for lighting and a humidification / mist system. The orchids in the greenhouse visibly like there environment.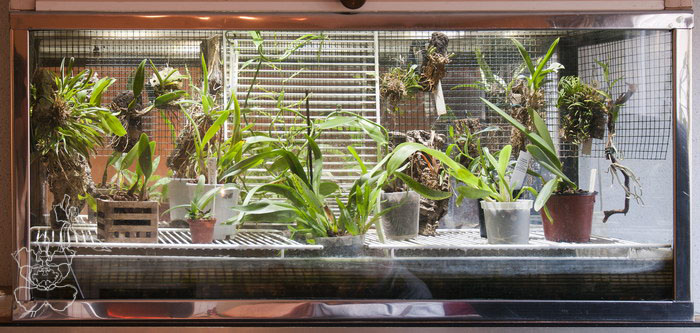 Don't forget to click on the 7 different areas on the picture above for a closer look.
Hans has a winter home in the attic for his orchids. He has surrounded them with mirrors so they get light from all sides.

As soon as the temperature allows it, Hans put his orchids outside under a shelter and protected from the sun.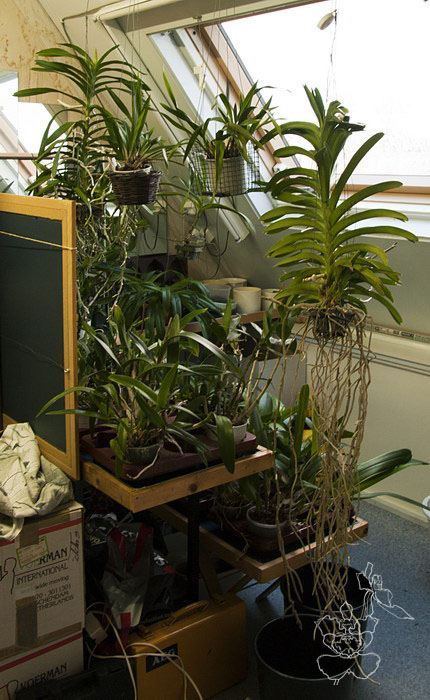 \
Don't forget to click on the 4 different areas on the picture above for a closer look.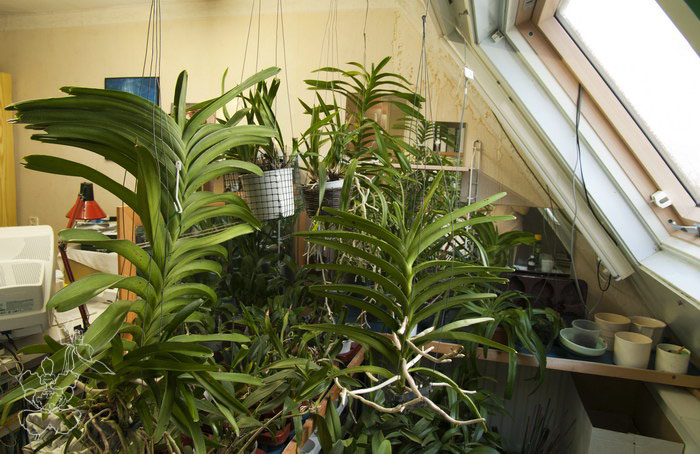 In previous years he would hang his Vanda's in the apple tree in his garden, but he will now have to think of another solution because he has cut down his apple tree.
During our visit there were only a few Orchids in bloom, so maybe we may sometime visit Hans once more when there are more Orchids in bloom.