➤
Orchideeën Wubben
Review date 08-04-2011
Update 02-02-2018


Tolakkerweg 162
3739 JT Hollandsche Rading
Tel: 035 5771222
Mail: orchidwubben@planet.nl
www.orchidwubben.com
Orchid Grower Wubben needs no further introduction. For years he was at home and abroad known as very good and passionate botanical orchid grower.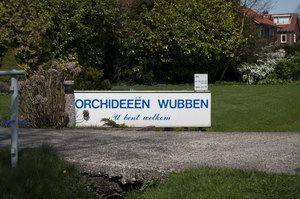 Wubben was convicted in 1989 for the smuggling of 2200 protected orchids from Venezuela worth thirty grand. And in 1995, during a check at the airport, he was caught with 95 plants with a value of about three thousand. Hidden in a cigarette box or hidden in his clothes. He was in Costa Rica, where he coaches a nursery, and he wanted to take some of those rare Oncidium glossomystax.
Too bad that the person who had to arrange the required permits, at the last moment had no time for him. What do you do as a true collector?

But thanks to "smuggle" he has managed to save many rare orchids for extinction by cloning and seeding them.
We have not asked about the amount of different orchids in his greenhouses, but it is certainly very impressive.
Wubben has 4 publicly accessible greenhouses, each with a different climate.
Take a look at the Picture page
Conclusion
James Wubben is an orchid grower at heart and is truly one of the best orchid growers. He has a very extensive collection, both large-flowered and very small specimens for the true enthusiast.
End score
| | |
| --- | --- |
| Quality Orchids | Very good |
| Impression greenhouse | Very good |
| Impression website | Good |
| Orchid species | Many kinds of botanic and Hybrid orchids |
| Price | Good |
| Sellingpoint | Webshop, Shop (openinghours, see website) |
| Payment | Cash |
| Accessibility | Good |
| Parkingspace | Moderate |