Review datum 10 april 2013
Reinhart Orchideeën
Westerveen 16
9751 HW Haren, GR.
Tel: 050 - 4062455 (bgg. 06 - 41824143)
Mail: info@reinhartorchideeen.nl
www.reinhartorchideeen.nl/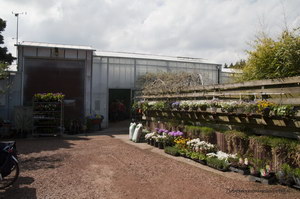 This long weekend Rijnhart Orchids from Haren held a four-day international orchid exhibition. We also recently had good advertisement for his exhibition and many posters hung and flyers distributed during our presentations during GroenRijk-orchids weekend and "kom in de kas" (open door days greenhouses).
So this was an event that we did not want to miss. Given the distance from Rotterdam area (approximately 2.5 hours' drive) Reinhart is an orchid grower that we will not often visit. It was also a good opportunity for us to take a closer look at this orchid grower for our review pages.
We started of course after 2.5 hours behind the wheel with a cup of coffee. It was self-service, and even so much self-service that there even was no one at the checkout. There was only a note with the prices of the coffee, tea and cakes and the request to put the the money in a bowl that was on the counter. The hospitality and confidence in the visitors is alright there in Haren.
The greenhouses have arisen as a result of a hobby going out of control. Frans Reinhart, full time grower since his 55th has as an addition to its greenhouse and a space to receive larger groups and a large orchid garden. Or as he puts it: "We have created a jungle of 500 m2 in which the plants can be seen in their natural environment."
Reinhart has its own views on growing orchids. He is very sparingly with water. The theory he has is that an orchid that gets much water gets lazy. However, an orchid that gets little water has to work hard to get its water and starts to bloom therefore faster. Whatever you think of this theory, for Frans Reinhart it seems to works. He has beautiful orchids to sell and is even regularly awarded at international orchid shows.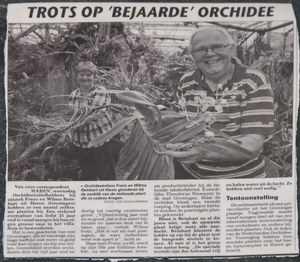 There is a small door in the coffee room. This seemed to be the entrance to the orchid garden.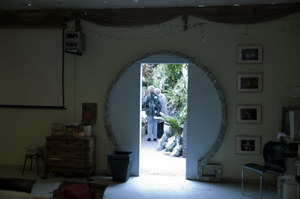 It is very surprising to walk through such a small door and then suddenly to stand in a very large very nicely decorated orchid garden Replicas of very large trees are used to mimic the natural habitat of orchids
The orchids in the garden were of very variable quality. There were growing real gems, but also orchids who absolutely disagreed with Frans his water theory. This could potentially be a point of improvement for Frans to make the Orchid garden even more beautiful
Very nice in the orchid garden were the signs with a piece of orchid history.
A good review also includes the search for pests. But that is all right here. As can be seen on the photo page, we were still able to find an orchid with a mealybug. But it is very important to say that we have visited a lot of growers and shows and almost always were able to find some lice or mealybug.
Frans doesn't do Self-seeding or propagation of orchids. His source material are young orchids that already grown out of the bottles stage. As a result he has the opportunity to grow and sell a great variety of orchids (mostly hybrids) both in-store and through his webshop.
Also look at the Fotopagina
Conclusion
Although the end score for "Impression greenhouses review" is "Moderate", the score for "Quality Orchids" is "Very good". The moderate score is mainly due to the scarce water use of Frans Reinhart, see the explanation above. For us, from Rotterdam area, the distance is definitely a huge objection. If we do not (as it should be at this point) take this in account, a visit to Reinhart Orchids is definitely recommended.
End score
| | |
| --- | --- |
| Quality Orchids | Very good |
| Impression greenhouse | Moderate |
| Impression website | Good |
| Orchid species | Many kinds, mostly Hybrid orchids |
| Price | Good |
| Sellingpoint | Webshop, Shop (openinghours, see website) |
| Payment | Cash, Card |
| Accessibility | Good |
| Parkingspace | Moderate |