Review datum 27-10-2012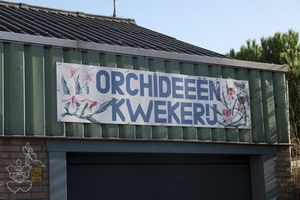 Orchideeënkwekerij J. van der Linden
Engsteeg 2
5306 TM Brakel
Tel: 0418-671686
Mail : info@orchideeenvdlinden.nl
www.orchideeenvdlinden.nl
About 40 years ago, Jan van der Linden started his company. The first 20 years they have mostly grown freesias and orchids were just a hobby. But when the living room of the house of Jan van der Linden was almost filled with orchids, they decided to use a piece of their greenhouse for growing orchids. Over the years, more and more of their business space was occupied by the orchids, so eventually the freesias field had to clean up.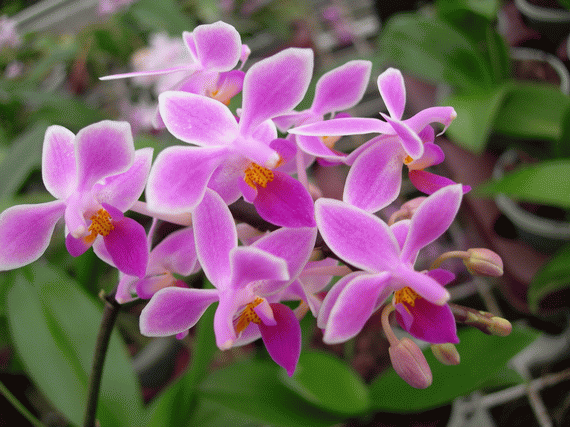 The first orchid that they were growing was the  Phalaenopsis Equestris, a small-flowered orchid.
Growing Phalaenopsis Equestris went so well that they were going to grow several species, such as Oncidium, Paphiopedilum, Dendrobium and Cymbidium.

However, by selling part of their business, they focus more on the private sale. Beside the earlier mentioned types they started to focus at orchids to the hobbyist.


We knew Jan van der Linden already because a lecture he had given at Orchid society Rotterdam. During the lecture he had several times spoke about "his little greenhouse." We knew absolutely not what we could expect and what to think of "his little greenhouse".
Rarely have we been so pleasantly surprised when we walked into an orchid greenhouse, so nice and cozy was the entrance area.
A portion of the greenhouse was furnished like terrace. After coffee we went into greenhouse area. This also made us tremendously happy. A huge variety of orchids and all in very good condition. It was clear that there was a lot of love for orchids going on.
A part of the greenhouse was reserved for privat collections.
Here were the most beautiful orchids in a very beautiful composition prepared. There were very special orchids to see.
Take a look at the Picture page
Conclusion
Jan van der Linden has focused entirely on the breeding orchids for the hobbyist and he is in our opinion very successful with it. You feel welcome when you walk into his greenhouse. Although he is limited to one climatic region, he is capable of growing a huge variety of species.
End score
| | |
| --- | --- |
| Quality Orchids | Very good |
| Impression greenhouse | Good |
| Impression website | Good |
| Orchid species | Many kinds of botanic and Hybrid orchids |
| Price | Good |
| Sellingpoint | Webshop, Shop (openinghours, see website) |
| Payment | Cash |
| Accessibility | Moderate |
| Parkingspace | Moderate |