Review datum 9 maart 2013
Claessen Orchideeën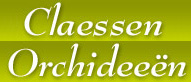 Claessen Orchideeën
Leveroysedijk 3
6034 SW Nederweert-Eind
Tel: 0495 460990
Mail: info@claessenorchideeen.nl
www.claessenorchideeen.nl
"Claessen Orchids opened its doors in March 2006 in Nederweert-end. The company of Rik Claessen [1985] was born from an out of control hobby. It started with setting up a terrarium, which soon turned out that the passion for tropical plants prevailed. It finally became a professional orchid farm, where botanical and hybrid forms in a lab metastasized, cloned, bred and rose to full grown plants. To develop the full and colorful flowers, the plants are finally placed in a drier greenhouse until they are fully developed and can be sold or presented in an exhibition - as immediately seen in 2006 during the impressive presentations Orchids of Claessen during Orchiade in the castle gardens of Arcen [NL], and during the international Orchilim the Commandery Alden Biessen in Belgium Bilzen. In a short time, the services offered by Claessen Orchids steadily grown. You can now shop from the catalog, orders to be sent, or experience a careful tour through the greenhouses. "
March 9, 2013, there was at Claessen orchids a NOV judge training day. This was a good opportunity to make a visit to Claessen orchids.
We had heard good reports about this grower, so we were very curious. The weather was bad this day, it really rained all day.
Claessen orchids is fairly easy to find and with a navigation unit is certainly is no problem. There is a reasonable parking space on the forecourt and if that is full, it's no problem to park on the roadside.
The greenhouse complex consists of 2 separate buildings. A culture and lab building with attached reception area and the greenhouses themselves. There is also a large terrace. In the reception area was the judge training day so it was very busy at that location. It is almost a 2 drive from Rotterdam to Claessen, so we started with a cup of coffee.
After the coffee we went for the greenhouse. Upon entering the greenhouse our attention was immediately caught by a framed newspaper article hanging next to the sales desk. The paper said that Rik Claessen began with the orchid growing business when he was just 21 year old. "It was a hobby grown out of control how he became the only orchid grower of the state Limburg".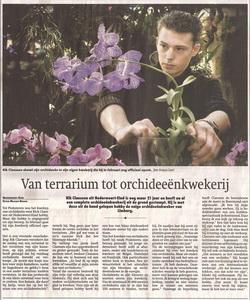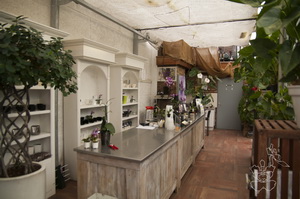 Van terrarium tot orchideeënkwekerij
(Dagblad de Limburger - 30 november 2006)

And that it is a hobby grown out of control shows when you walk through his greenhouse. Not that it looks amateurish, just the opposite. Here is someone at work with his hart at the right place when it concerns the love for the profession and for the orchid. En dat het een uit de hand gelopen hobby is, is zeer zeker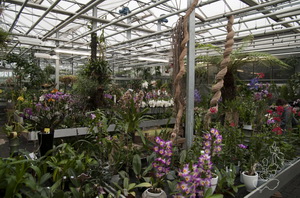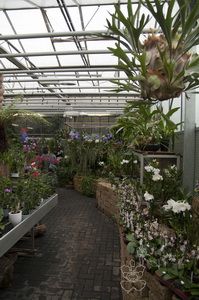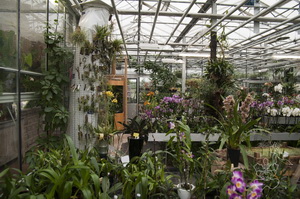 The greenhouses are very nicely decorated and above all very well maintained. Where in other greenhouses often much cutting and leaf litter can be found under the tables, this greenhouse looks very neat and clean. And often goes, the cleaner the greenhouse, the better the plants.


Although the total greenhouse area is not huge, there is still a very large assortment of orchids to be found, both hybrid and botanical. And most of them from seedling or cloned plants grown by Claessen himself.
Deep respect that someone at such a young age has been able to deliver such a great achievement and continues to grow orchids at such a high level.
Take a look at the Picture page
Conclusion
If you are looking for beautiful and more special and reasonably priced orchids, then a visit to Claessen is very highly recommended. And if Claessen is too far away for a visit, everything is also for sale through their extensive web shop.
Nothing stands the orchid lover in the way to extend his or her collection with some Claessen orchids.
End score
| | |
| --- | --- |
| Quality Orchids | Very good |
| Impression greenhouse | Very good |
| Impression website | Very good |
| Orchid species | Many kinds of botanic and Hybrid orchids |
| Price | Good |
| Sellingpoint | Webshop, Shop (openinghours, see website) |
| Payment | Cash |
| Accessibility | Good |
| Parkingspace | Good |